Product Details
Molasses Tobacco Agitator
Description:
1. Applies into that quite various fields, such as pharmacy, chemical, and food industry, and that truly different proportion of main and supplementary materials, like powdered, damp raw materials, which are precisely easy to be well fixed by the machine.
2. Using stainless to connect this machine and materials in every parts, and the gap between paddle and shaft is be reduced in a negligible level, which means dead Corner of mixture has no place to exist.

3. Installed admirable sealing arrangement between mixer shaft and cell body, which avoids materials outleakage.

4. Set up one-way spherical thrust bearing and radial-thrust bearing at two sides of stirring shaft, which keep effectively shocks happing in overload stirring off.

5. Features sample mechanism, simplicity of operator, good-looking appearance, small footprint, easy cleaning, good mixing effect, certified GMP.
Technical Parameters:
| | | | | |
| --- | --- | --- | --- | --- |
| Volume (L) | 100 | 150 | 200 | 300 |
| Power (Kw) | 2.2 | 3 | 4 | 5.5 |
| Stirring rotate speed (rpm) | 24 | 24 | 24 | 24 |
| Point of Pour (°) | 105 | 105 | 105 | 105 |
| Weight (Kg) | 350 | 500 | 650 | 1200 |
| Dimension (mm) | 880×880×1350 | 1600×1600×1100 | 1800×700×1200 | 2000×820×1460 |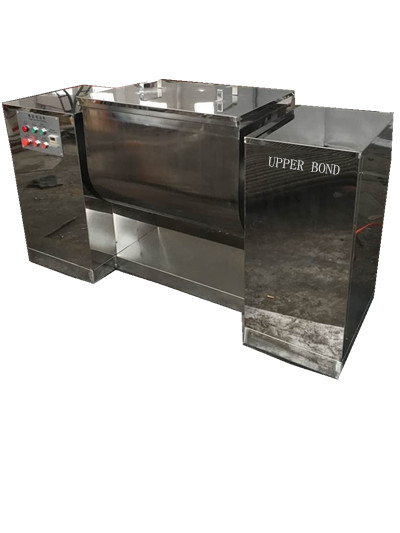 Related Tags : Jam Tobacco Agitator Molasses Packer Shisha Machine
Related Product