High Speed MK9 Cigarette Making And Assembling Combination
UBDM1

Huangpu, Guangzhou

T/T, L/C

Green

3-4 months
Contact Supplier
Chat Now !
Product Details
High Speed MK9 Cigarette Making And Assembling Combination
Production Process: Cigarette Tobacco rod making and Assembling of Tobacco Rod and Filter Rod.
Configuration: Maker+ Assembler+ Tray Filler
It can be customized to produce king size cigarettes(7.8mm x 84mm), super slim cigarettes or kreteks with different size. The cigarette weight can be inspected,and the faulty cigarettes will be rejected online automatically. This type of combination has been sold to Asia, Africa, Europe and North America, widely popular in the international marketplace.
Technical Highlights:
1. The cigarette cutting system uses the double-knife single-cutting system with lower-rise temperature and lower noise. This gives the very good quality of the cigarette cut.
2. The complete suction system and high air pressure system .
3. The hopper system adopts AC servo motor to directly drive the tobacco cutting system. The timing belts are used instead of the gears, so the even tobacco-feeding is greatly improved and the maintenance cost is reduced as well.
4. It adopts AC servo driving system that simplifies the mechanical structures and reduces the failure and maintenance cost, and improves the transmission precision.
5. Electric control system:
- Control center: it adopts the SIEMENS PLC S7-300 series.
- Weight controller: the microwave weight control system is adopted to avoid any harm to people.
- Man-machine interface: The SIEMENS touch screen provides friendly man-machine interface, which displays the machine status and production data precisely. It is also convenient to modify the system parameter and check out the failure.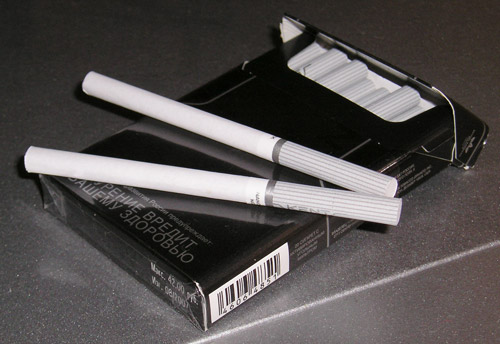 Main Parameters:
| | |
| --- | --- |
| Output: 5000cig/min for the king size cigarettes | Frequency: 50Hz |
| 3500cig/min for the super slim cigarettes | Total power: 50KVA |
| Cigarette parameter | Outside dimensions |
| Filter-cigarette length: 65 ~110± 0.5 mm | Cigarette maker : 3630× 1270 × 1870mm |
| Tobacco rod length: 55 ~90 mm | Plug assembler: 3340×1340× 1820mm |
| Cigarette diameter: φ 5.4 ~φ 9.0 mm | Tray Filler : 2350×2400× 2100mm |
| Power supply: 380V ± 10%(3phases) | Total weight: 8600kg |
Making Process Requirements:
1. Ambient conditions
a. Temperature: 20℃--30℃
b. Relative humidity: 62%--68%
2. Paper bobbin
a. Tensile strength ≥0.85KN/m
b. Extensibility >1.6%
c. Humidity: 6%±1.5%
e. Joint number <1/1000 m
3. Width: 48±0.3 mm
a. Thickness: 0.04mm~0.05 mm
4. Cut tobacco
a. Grade: A
b. Humidity: 12.5%±0.5%
5. Compress air: 5.5bar
6. Viscosity of VPA
a. For the maker: 2500mPa.s-5000mPa.s
b. For the assembler: 5000mPa.s-10000mPa.s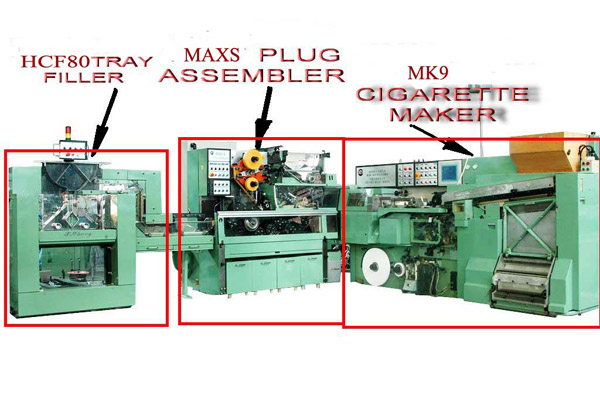 Related Tags : High Speed Cigarette maker Cigarette Lighter Assembly Tobacco Cigarette Rod Making
Previous:PROTOS 70 Cigarette Making and Filter Assembling Group
Next:MK8 Cigarette Maker & Assembler With Good Performance
Related Product